Merge requests like the chef combine ingredients
5 min read
Mar 8, 2021 2:55:15 AM
Our agents are still hungry
In March 2021 Jira Service Management was named Gartner Peer Insights Customer's Choice in the category 'IT Service Management Tools'. We are not surprised, because we know how many possibilities this tool offers. However, in some aspects, Jira Service Management needs some improvement. By actively using service projects, we noticed that the missing element is the ability to merge requests. What's more, we want to have control over which tickets we merge. On the other hand, we want some actions to be automatic.
Merge requests like the chef combine ingredients
Right now, manually closing similar reports was giving us a headache… or stomach ache. Copying the content of a request to the similar one (called target request), manually adding a reporter as a request participant to the target request, and finally linking these requests take so long that we don't even have time to eat lunch during the break. But what if we could get a recipe that would revolutionize our agents' work?
For our kitchen revolution, we used the Issue Merger for Jira Cloud app, the configuration of which allowed us to make a lot of improvements. Below you will find a list of the ingredients you need. Prepare everything and start cooking with us in Jira.
Ingredients
Service project with at least one request type (you can use the company-managed project as well as team-managed)
A list of fields added to the request form (at least summary, description)
The Resolution field added to the edit screen
New link type: duplicates / is duplicated (read how to configure issue linking in Jira)
Have you got everything ready? Then put on the apron and let's start combining the ingredients.
Step 1: Configure the service project
After creating a service project, All opens is a predefined queue. The defined JQL syntax differs depending on the type of project:
Company-managed (previously classic) project: resolution = Unresolved ORDER BY "Time to resolution" ASC
Team-managed (previously next-gen) project: statusCategory in ("To Do", "In Progress") ORDER BY "Time to done" ASC
When a customer creates a new ticket, it automatically falls into this queue. However, very often the development team knows the problem and is working on it. To facilitate the agent's work, so that he does not have to handle several tickets separately, it is worth having the possibility of merging them into one.
Step 2: Set merging options in the global configuration
There is a Jira Service Management tab in the global configuration of the Issue Merger app. It allows you to define settings for this product. For our use case, select the Merge Description as an internal comment into Jira Service Management issue checkbox.
In order not to get lost in the requests, it is worth linking them. If you select the link type in the Jira tab, it will be automatically set to the merge dialog. The Duplicates link is set on the source request. The agent will have two clicks less. (Believe me, it saves time!)
Step 3: Specify app's configuration
To make things even easier for agents, select the default fields to be selected for merging. Thanks to this, they will be selected immediately in the merging dialog on the issue view (another two click less). Select Summary. Remember that this field must first be selected as available for merging.
After the agent merges, the ticket can change its status to Done automatically. Just select this status in the Move source issue after the merge to the status field. Here you can also configure the Resolution field. We recommend Duplicate. For this action to work properly, you need to add a field to the edit screen. This field is taken into account in the All opens queue (for company-managed projects) that's why it's so important.
The ticket that collects all similar requests is the only place the agent needs to update by adding comments. For them to reach everyone interested, check the last checkbox in the app. With this setting, the duplicate request reporter will automatically be added as a request participant to the target issue. Thanks to this the requester will be up to date with all changes.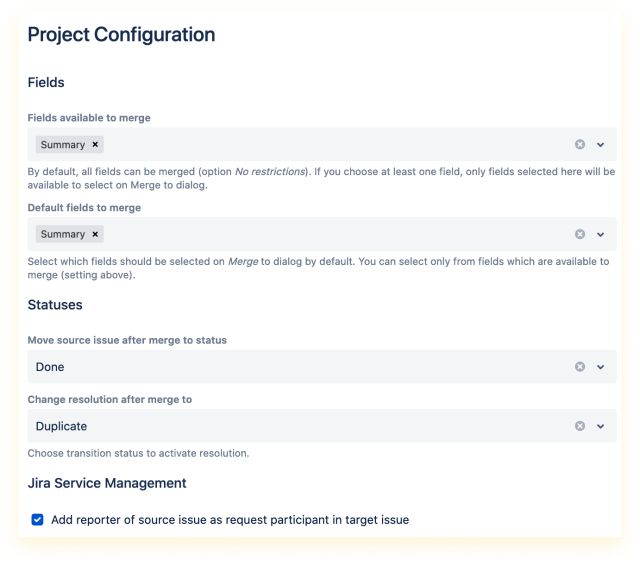 Let's try what you've already prepared!
We have all the ingredients together. The time has come for a great feast! Imagine a customer creating a request FOOD-180 "Tuna Salad Recipe Page Not Working". The agent talks to the developers and it turns out you have a production error. The team is working to fix it. It turns out other recipes don't work. You don't look back, and in the queue you see:
FOOD-181 "I want to cook broccoli soup but can't see the recipe"
FOOD-182 "Why is my favorite tiramisu recipe missing?"
FOOD-183 "Your recipe page burned down"
All requests are for the same as ticket FOOD-180. Normally, the agent would have to answer each ticket separately. And the number of requests is growing like pizza dough 😉
Luckily, we've prepared our special queue sauce! The agent opens a ticket FOOD-184 "Looking for a scrambled egg recipe" and selects Merge to. In the dialogue, it is enough to select target issue FOOD-180 and click Save. The Description field from FOOD-184 is copied as a comment into FOOD-180 and the Reporter is added as a Request Participant. Thanks to this, the agent describes the next updates about the status of the production problem in only one ticket: FOOD-180.
Despite having access to the FOOD-180, customers can still comment on their requests. Don't worry about having to keep track of them despite merging! You just need to check the Sync comments option in the dialogue. This ensures that all new comments (from FOOD-184) will be automatically added to the main ticket (FOOD-180). The list of requests from which comments are synchronized is available at your fingertips in the issue glance.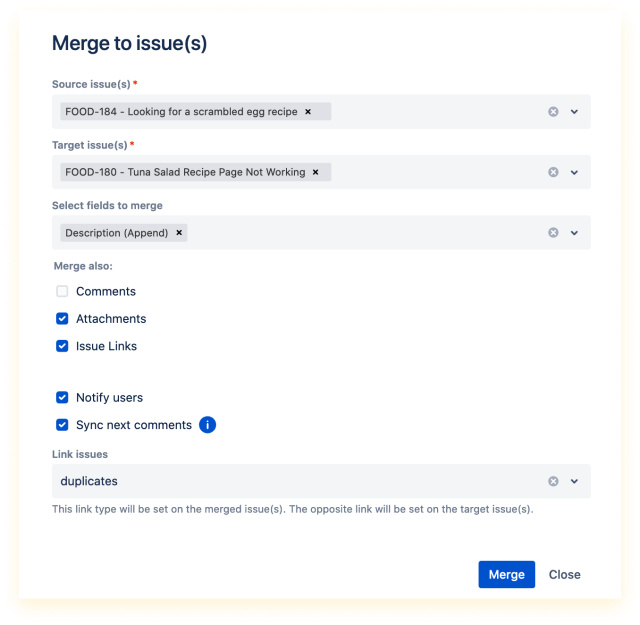 Conclusion
Do our agents have time for lunch now? Definitely yes! By using the Issue Merger for Jira app, they don't duplicate their work. Switching between requests and replying to each of them individually can be time-consuming. The main ticket is their problem management center.
Are you still hungry for new features? We'll be happy to organize a short demo for you and talk about your company's requirements. Don't hesitate to book a session via calendly 👩🏻‍💻👨‍💻
If you want to read more about Jira Service Management, look at the articles listed below:
Happy cooking merging!