How to collect customer details in service projects
4 min read
Dec 6, 2020 11:17:57 PM
Collecting customers details builds a tailor-made customer experience
It is no secret that customer experience plays an increasingly important role in business development. A Walker study found that at the end of 2020, "customer experience will overtake price and product as the key brand differentiator". It is becoming more and more important how we care for the customer. More important than what we can offer him (product, service). In a highly technical world, full of electronics, social media, and virtual reality, the emotions that the company arouses in the customer prevail. The competition in the market is so huge. The product itself is no longer relevant. What we can convince the client is the support team, standing on the front line when it comes to contact with the client. ‌
What do you know about your Customers?
The second important issue is data. Knowledge is power. The more you know about the customer, the better the experience you can build. Since its native language is German, why don't you offer support in German? If he is in a different time zone than the agent, why do you not provide support during these hours and force him to wake up at dawn for a troubleshooting session? Why do you reply to his ticket with a few comments, even though he does not have internet access and cannot reply? Due to a lack of data. How do you know he's german? You don't take into account that he might be on the sunny shores of Miami. You have no other contact for him, for example, a phone number. That is why collecting information about the client is so important. How to handle customer details in Jira Service Management?
Customers and Organizations in Jira service projects
In Jira Service Management, the customer, creating the account, provides name and e-mail address. It's also a place in the Profile to define language and time-zone. They're set automatically but can be changed by the client. For the service agent, only the name is visible in the table Customers under the service project. The e-mail address can be set as a private in the Atlassian account settings. There is no option to note, for example, the mobile number of the customer. Additionally, you can organize customers into Organizations. In this case, you meet the same difficulty. There is no option to add some description or purpose of the organization. The workaround is to add custom fields to the Request Form to collect this data. But customers have to every time fill them. It doesn't sound like an efficient customer management solution.
Collecting additional attributes about Customers
By creating Customer Details app, we would like to fill the important gap in Jira Service Management. Our product responds to the user needs which are described in the Atlassian tickets JSDCLOUD-1239 and JSDCLOUD-4541.
This is a "ABC" service desk feature.
We were reading a lot of complaints about how customer management is bad in Jira Service Management. The service agents' life is difficult because they cannot attach any info to the customers. In the comments on the tickets mentioned above, you can find a lot of examples, such as purchase history or contact details. This feature will make it easier for an agent to quickly lookup a customer's phone numbers and give them a call. A direct call can be seen as a better customer experience than exchanging comments on the ticket (like a ping pong 🏓). Also switching between Jira and a different application every time the agent wants to contact a customer is annoying and a waste of time. If you want to build a pro-active support team and follow up with customers often, the best way is via the phone (or Whatsapp), don't you think?
This is critical to providing efficient support to our clients.
Support teams want to ask about collecting data, such as:
company name,
phone number,
e-mail address,
role, etc.
They have the same expectations of the organization to collect extra attributes:
company website,
address,
LinkedIn profile,
emergency contact, and many more.
Customer Details for Jira Service Management
Immediately after installation, you can see that on the issue view is a new panel on the glance called Customer Details. After clicking on it, details show up. Firstly, you see information about Reporter. You can easily switch between Reporter and Request Participants. Without any form configuration, Customer Details displays basic information included in the customer profile (name, e-mail, language, time-zone). To collect more data, the Jira administrator has to configure a form where defines which attributes want to collect. After saving the form, these fields are ready to edit on the issue (by the service agent) or in the profile (by the customer). Having all the information at the fingertips will surely make the agent's job easier.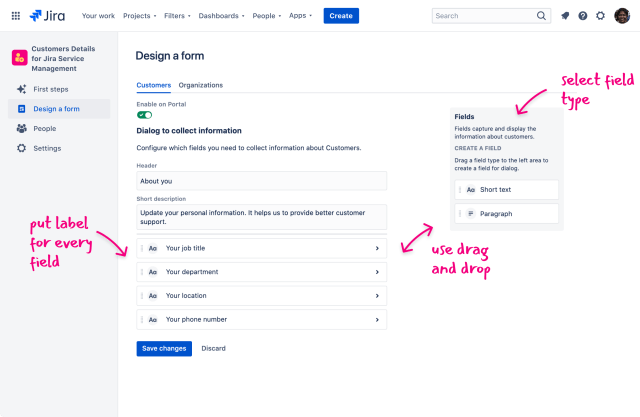 Conclusion
If you want to cooperate with your customers at the highest level, you must know about them as much as possible. The easiest way is to ask them. Unfortunately, using native Jira Service Management features is not possible to do it efficiently. Having multiple systems to gather information? It's also not the best solution if you want to have everything in one place. Most of the users are surprised that this functionality hasn't been implemented still in Jira Service Management. We also. So this is why we decided to create Customer Details app. In the beginning, it was a small app only for our team. After some time we decided to release it to the public. Currently, we are developing it as our new product on the Atlassian Marketplace. ‌
We'll be happy to organize a short demo for you, talk about your requirements. Don't hesitate to book a session via calendly 👩🏻‍💻🧑🏽‍💻
If you want to read more about Jira Service Management, look at the articles listed below: