Jira Service Management as an ideal ITSM tool with help of extensions: customer service and security

12 min read
Jun 21, 2023 10:40:09 AM
Platforms for IT service management (ITSM) provide workflow management and related data that let businesses plan, automate, control, and deliver seamless digital experiences. Many companies use many different services for ITSM. Tools may also offer additional capabilities in the form of embedded functionality or support for native integrations. According to the Gartner report Magic Quadrant for IT Service Management Platforms, Atlassian, with its Jira Service Management, is a leader in this area. The goal of Atlassian's approach is to unite development, Infrastucture&Operations, and business teams through a unified platform. For ITSM, Atlassian focuses on businesses of all sizes.
Jira Service Management in a nutshell
Jira Service Management helps teams stay on track with goals and makes it simpler to categorize service requests, incidents, problems, and modifications by grouping and prioritizing these requests. Speaking of its functionalities, two perspectives should be distinguished: the agent and the customer.
The customer meets with the company via the Portal. There is a place where you can report tickets. The profile section contains basic data, but natively you can't change the fields we ask the customer to fill in. Agents have a much broader experience. It involves more than just opening and closing tickets; there are many additional stages, approvals, and participants. Agents manage data and workflows between them and the rest of the team. Unfortunately, more than the built-in functionalities are needed for creating well-prospecting customer support and a customer-agent relationship.
ITILv4 and related features in Jira Service Management
The most popular service management framework is ITIL. Aligning IT resources and operations with the whole business is crucial for firms. As the de facto ITSM standard, ITIL puts your business on the right track to providing the most extraordinary customer-focused service management. As an ITSM tool, Jira Service Management is PinkVERIFY ITIL 4 - certified for 7 practices.
Jira Service Management features and ITILv4 practices are highly related. We have collected their comparison in the table below.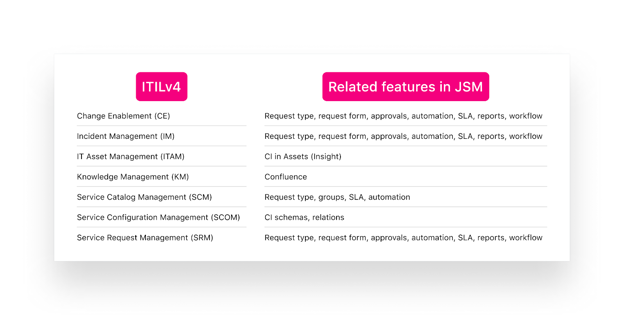 Screen 1: ITILv4 vs JSM
How to boost Jira Service Management and customer context processes with extensions
Jira Service Management is not a complete ITMS tool. Natively there is a lack of features that can make agents and customer experience good enough to create a high-velocity workflow. Teams using Jira Service Management, especially large-scale, need more. But what is more?
How many times have agents been stuck due to a lack of information? How many times the ticket resolution process was over the deadline because agents had to wait for customer answers? What agents need is more data and more power to manage it and share it with a Team.
The extension we believe is adequate to fulfill this data gap is Customer and Organization Management for Jira Service Management, delivered by Appsvio. This app unlocks the higher level of agents' work. How? By easily and fast data gathering.
Collecting additional customer context right on the issue view
Agents meet with customers on the Portal. This is a contact point. That's why it is essential to modify Portal to suit agents' needs. Thanks to Customer and Organization Management, there is a possibility to collect additional information about customer context. Designing a form is simple – select the field type and drag and drop it to add it to the customer view.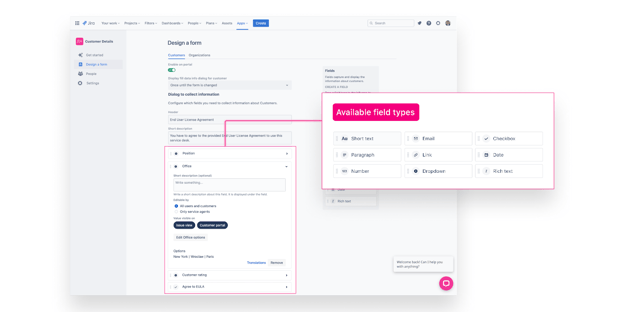 Screen 2: Designing a form in Customer and Organization Management
How is it displayed? Right on the Issue view and on the Customer Portal. Customers can also edit that information on the customer portal. You can set up which one you need on the issue view and which stays only on the Customer Profile.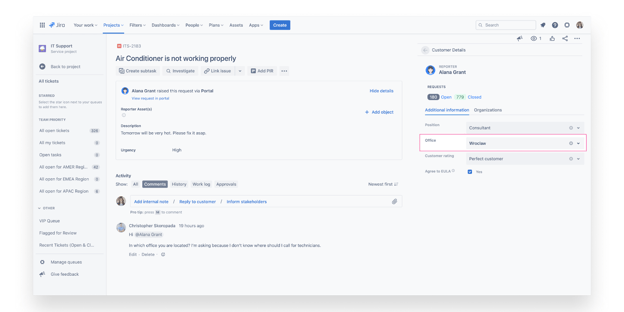 Screen 3: Agent's view in Customer and Organization Management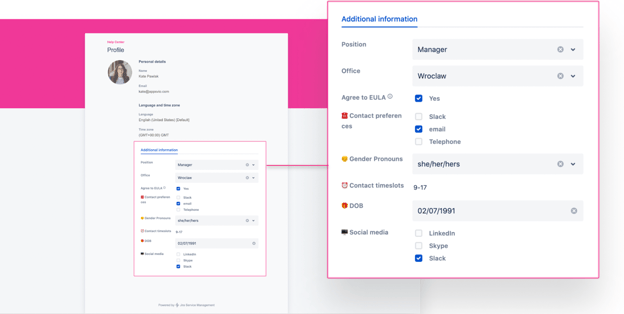 Screen 4: Customer Portal in Customer and Organization Management
That data can be used to make JQL and SLA definitions dependent on it. The result? Speeding up request creation by copy values from the customer's profile to the issue.
The Customer and Organization Management supports a bulk option. It is possible to assign customers to projects and organizations in bulk – of course, you don't want to change the data manually every single time when f.e. the office address is changed, and you are connected with hundreds of people there.
Thanks to that additional information, agents save time, and the communication process is better and more transparent. Agents have easy access to information about customers and organizations is a win-win situation.
Customer score – deepen customer context
Speaking of the communication process, Customer and Organization Management allows you also to rate the customers and hide it from them. It can be useful information for the rest of the team on how to conduct the ticket resolution next time. Agents have a vast knowledge of customers, so why not share it when needed?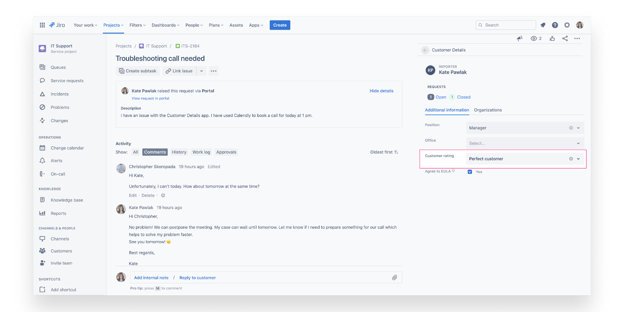 Screen 5: Customer score feature
It was all about Jira Service Management supported by extension to create outstanding Customer and Organization Management. It fills the gap in Jira Service Management and is a game-changer, especially for large-scale instances.
Using data in workflow (post function)
Data collected with Customer and Organization Management can be used in every place in Jira. This is made possible by a post function that copies the values collected with the app to a custom field in Jira. The example in the screenshot is the use of this custom field in the configuration of SLA metrics.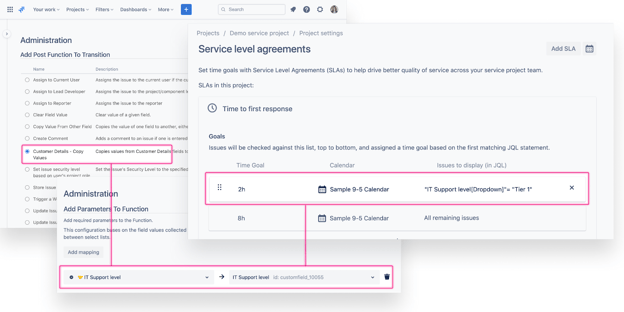 Screen 6: Using data in the configuration of SLA

Here is a little recap of what the described addon Customer and Organization Management manage:
Create a customer account from the external resource

Assign customers to projects and organizations in bulk

Create organizations based on the .csv file

Gathering data about customers and organizations
Create outstanding customer service with Jira Service Management and extension
We considered the prospect of an agent in Jira Service Management. Now it's time to take care of customers, too. We were curious to see what solutions various extensions offer for creating a more customer-centered service, and one of them got our attention. Feature Bundle for Jira Service Management, also by Appsvio (try those in tandem!), offers a proactive and self-service approach. Nicely put, it allows customers to take over the cases that agents previously performed.
Edit request feature
It's time to put more into customers' hands! With this feature, you can allow customers to edit their requests. Changing minds is natural. Why engage agents every single time to apply changes? Imagine that you have to modify dozens of requests one day – a waste of time. In our scenario, customers can decide on their own and make changes with ease.
As an admin, you can define who is able to edit the request: Reporter/Participants/ Organizations.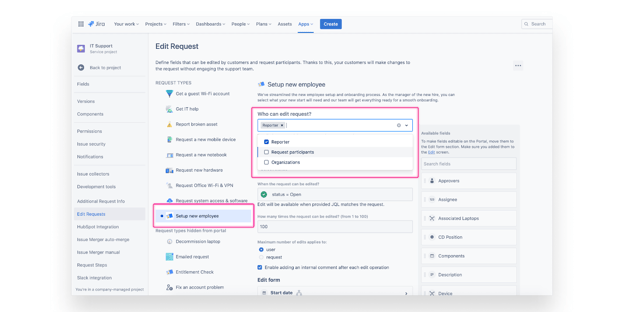 Screen 7: Specifying editing request rights
Appsvio once again uses drag-and-drop functionality to make it possible to create a form. Decide which fields can be edited. What's interesting, it also supports Assets formerly known as Insight, so you can customize it as you need.
Screen 8: Edit request design form
Changes shouldn't be unlimited, so there is a simple way to set up how many times it can be edited. Define with JQL when this feature is on and when the editing option ends. Thanks to this, customers get their tickets edited, but only at a specific time.

Screen 9: Limiting limits on the number of edits
Banners and visible workflows as a key to boosting communication with customers
The self-service approach is one, but one factor that can be boosted on the Jira Service Management Portal – communication.
Feature Bundle for Jira Service Management offers a functionality thanks to which customers (or people from your company, but using Portal) stay on the same page and are well-informed all the time, without thousands of emails and announcements. Banners hit differently.
Let's create customized banners with graphics and colors (that one seems to be not necessary, but try to use it when an announcement is urgent, and you will change your mind) depending on the occasion or type of message. Content can be created in Rich Text Editor or HTML, so there is a large field of play.
Banners can be displayed at Help Center, Customer Portals, Request Forms, Request Details View, Profile, and Requests – where you find it best, and they can be scheduled. Set up the time it should be visible (all of the time, certain days, etc.) and the condition which should be met. And we weren't surprised when we discovered that visibility could be limited for selected groups (perfect, for example, to match the language with organizations).
☝️You can create more than one banner displayed at once.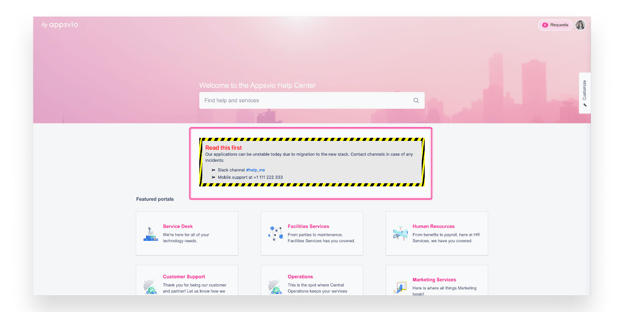 Screen 10: Customer Portal with a customized banner
The last thing we want to discuss is the ability to show the customer's workflow. It's the same situation when you order something, and it's shipping. You want to know where your order is and how many steps are in front of it. Why not do the same for our customers and show them at what stage the request is. With Feature Bundle, you add workflow to the request view and make sure that your customers have information about it without asking you. You can define the steps and conditions when they change. When you define a ticket as in progress, it can be processed. You decide how many steps in the workflow you need.

Screen 11: Workflow displayed on the request view
What's more you can also display your customers additional field values on the Portal. Thanks to the custom fields and Feature Bundle app you can give them more information about the request status right away. How many fewer questions would it be if they could see fields as assignee / created / updated / resolved dates / resolution, or could you list important attachments immediately? It is possible with Appsvio's extension. You can simply configure which fields you want to display for each request type.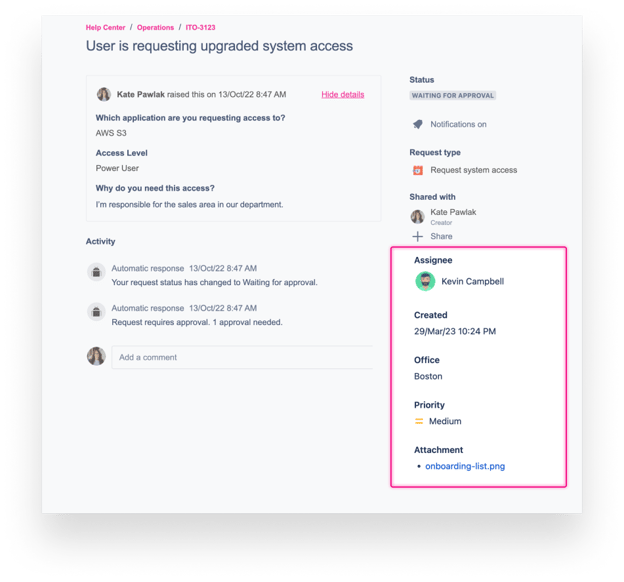 Screen 12: Customer Portal with additional field values
Communication that is conducted well can be a blast. Without millions of questions, changes, and repetitive actions, agents can do their job when customers are satisfied. Keep them well-informed and show them a self-service approach – it's also their time saved, too.
Let's talk about Security for External Customer or portal only customers in Jira Service Management Cloud.
SSO capabilities for portal only customers has been a major roadblock for customers using JSM Cloud. Along with that managing thousands of customer accounts can be very troublesome.
Could you imagine what it would be like you were told that external customers can now log in via SSO to your Jira Service Management portals? miniOrange got your back with an exclusive solution, SSO Integration with Helpdesks (JSM).
With the help of this app you can now extend the SAML SSO capabilities for portal only customers. You just need to connect to your identity provider (Okta, AzureAD,) with the app enabling a secure and streamlined authentication process for external customers.
Once the customer is authenticated via their identity provider a user session is estalibhed on the JSM portal. With the help of this session created, they can now access and track the progress of their tickets and perform relevant actions. This solution enables users to access the portal using their existing authentication credentials from a trusted identity provider. Let's have a look at some of the advantages of using our plugin:
Firstly, by adding an additional layer of authentication, it ensures that users must prove their identity before accessing the portal. It helps to verify the legitimacy of users and prevents automated bots from easily creating accounts and submitting spam tickets.
Secondly, it provides a centralized user management. By leveraging an identity provider, you can maintain a single source of truth for user identities and access controls of your external customers.
Apart from the mentioned benefits, integration boasts certain features that you might want to take a look at.
Features Aimed at Efficiency:
✅ Support for both SAML + OAuth/OIDC Protocols
With the OAuth/OIDC support you can now connect Atlassian cloud to your OAuth/OIDC priovider and ensure a seamless authentication experience. The app establishes trust between 2 applications like Atlassian Access (SAML module) and any OAuth/OIDC provider that do not speak the same protocol and helps them understand the requests and responses.
✅ Multiple IDP support:
With multiple IDP support, vendor refers to the ability of our plugin to integrate with and authenticate users from multiple Identity Providers. This feature would allow users to choose from different trusted authentication sources when logging into the system.
✅ Two-Factor Authentication (2FA) on top of SSO:
Two-Factor Authentication adds an extra layer of security on top of Single Sign-On (SSO) by requiring users to provide two forms of verification before granting access. This feature ensures that even if someone gains access to a user's login credentials, they still need the second factor to successfully log in. These features provide an extra level of protection for your JSM portal by adding an additional layer of authentication and limiting access privileges based on user roles.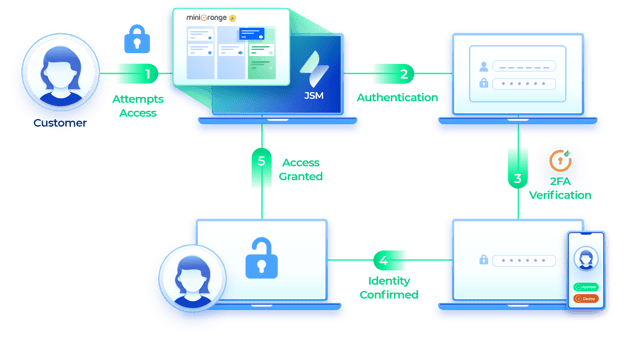 Screen 13: Two Factor Authentication in Jira
Service Management Cloud
✅ Organization mapping based on customer domains and IDP groups:
An organization is a grouping or category within JSM that allows for better organization and management of customer accounts and their associated support tickets. With this feature, it would automatically assign customers to specific organizations based on their email domains and IDP groups. This helps to streamline support workflows and ensures that customers from the same organization are grouped together and are able to access specific JSM portals for easier tracking and communication.
✅ Easy User Management and custom domain support:
That's not all, with the help of our plugin Configurations you get the help center links for all projects in one tab. You can also configure the fields you want to be visible for a particular ticket using Portal Fields. User management is also made much easier with the information of those logged in and audit logs based on user's login information. And, if stuck somewhere then there's a quick troubleshooting tab for possible solutions.
Conclusion
Jira Service Management needs extensions to become an ITSM tool we need in our jobs. Without them, it may be too limited to meet the team's needs. If you want to create a high-velocity agent-customer workflow, try the addon we discussed. Additional information and good communication are the keys to boosting agents' daily work and customer satisfaction. Stop wasting your time – try a self-service approach and design a customer and organization management that speeds up ticket resolution. It can be done better and faster.
When it comes to security it is important to secure your user accounts of your portal only customers. With SSO integration with JSM, you can not only bolster security but also enhance user convenience. With SSO integration, you protect your JSM portal, gain tighter control over your external customer accounts, and unleash the full potential of efficient customer support.