The one we went to the Baltic Sea and made the Forge app

6 min read
Oct 31, 2022 6:53:43 PM
Appsvio has only one but golden tradition so far – yearly hackathons where the Team bonds and the work is done. This year we managed to create the Forge app we've been thinking about for a long time – Issue Templates Agent for Jira, which already conquers the Marketplace. We want to share our view on hackathons in the era of remote work and our ideas on organizing the trip your Team loves. So this is a story about how to develop a Forge app in 3 days, lose a bet and still have fun.
Hackathons are part of our Atlassian community. As a Jira enthusiast and vendor, we have our own tradition of organizing one a year. This September, we went to our beloved Baltic Sea – it takes the whole of Poland to come through, but so worth it. Maybe we should create a theory on how iodine stimulates developing skills because within three days, we made the whole Forge app!
Coding can be really fun and effective when correctly dosed and shuffled with others' activity. Codegeiest is a perfect occasion to run the hackathon in your company. So we're here to give you a recipe for a hackathon everybody loves. Keep reading because even Monica Geller wouldn't be ashamed of it!
How to prepare a remarkable hackathon?
Forewarned is forearmed. You need a checklist and a plan, and you have to consider a few factors which can significantly impact the quality of the trip. Since we developed an app for creating templates, we made a list of issues that will be used at the next hackathons.
1. 🏡 Perfect place
Changing the surroundings can be healing. It's good to leave behind your desk and work in a different environment. Every brain needs a little bit of refreshment. Choose a place close to nature, different from everyday views, and far away from noise and distractions. Our cabin was in woods 3 km away from the Baltic Sea. Morning coffee tastes better with the forest as a view ☕️
Don't forget that the place should have a shared space to work. A big table is a plus. You can eat together, work together or play board games. Choose the one you enjoy. Stimulative space will bring the effects.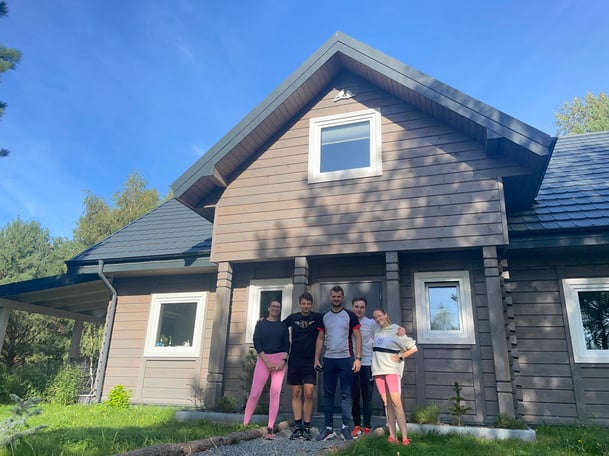 Our cabin was a blast! 💖
2. The mission is on; do you copy? 🙌
Specify what your goal is. What should be done at the end of the hackathon, and with what resources and time? Delegate tasks and present your plan to the Team so that everybody is on the same page and feels the mission. We're coding late, but doing this with crafted beers or bubbles company was fun.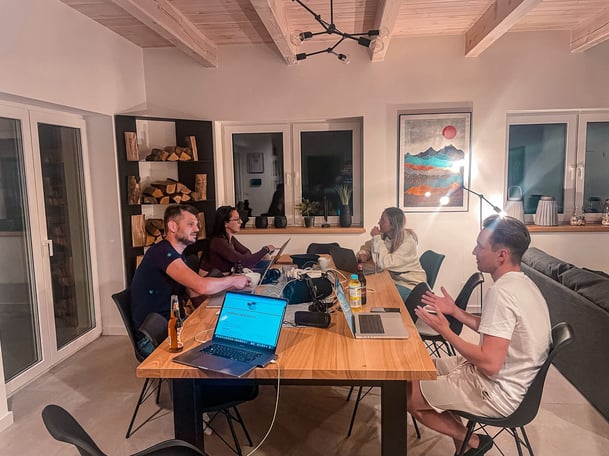 Work in progress! 💻
3. All work and no play makes Jack a dull boy 🎉
Okay, the work must be done, but your team will surely be more effective when having fun. Plan different activities perfect for team-building. We have a new employee at our hackathon, so it was an excellent opportunity to onboard and get along with each other. We presented our user's manual and talked a little about ourselves, what we like, our hobbies, and how we want to work. We play Forehead and other board games, but we like training together. Every morning we had a running session on the beach 🏃 Once, we also did CrossFit training; believe us, some of us are still catching our breath! Coding never felt so relaxing! Chris even has a CrossFit playlist he is happy to share 😊
Run Forest, run!
4. 🍔 Food is always a good idea
Do research what your Team's eating habits are. Make sure you know who is vegan etc. and prepare a list of places you can eat—sharing food and eating together bonds like nothing else!
5. ⚖️ Work-life balance documentation
We believe it's a good practice to discuss work-life balance and set up some rules. We have a special space in the Confluence for that. We talk about study hours, paid leave, when our birthdays are and what books we should have in our library. It is an open space for everybody who wants to add something or have new ideas. We always put a hackathon agenda there and store photos from previous ones. Then, before the trip, we discuss the plan, add others' ideas and ensure everybody is on board.
Those are 5 factors that you should consider when organizing your hackathons. To be sure you won't miss anything, prepare issue templates and use them in every hackathon you prepare. You can make them with our Forge addon Issue Templates Agent for Jira – Baltic hackathon's baby.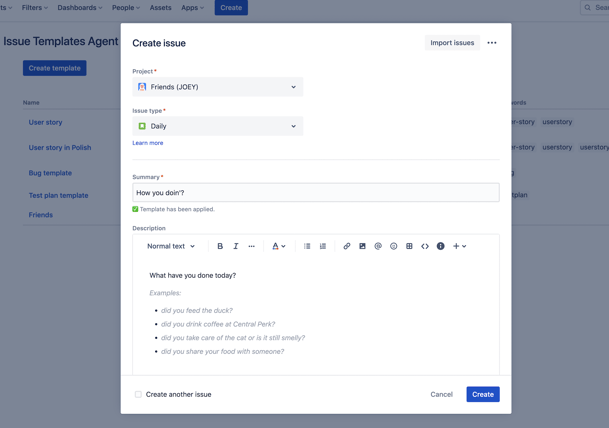 Issue Templates Agent for Jira, FRIENDS edition
How did it develop? Let's express our users' reactions with a picture. And sorry for the sound showing in your minds! 😅
Our original F-R-I-E-N-D-S rule
When we were summing up the hackathon, pros and cons (there weren't any cons at all!), we figured out that the excellent Hackaton needs all the Friends characters a little bit. God, this show really inspires us! 🤣
Take care of friends like Phoebe
Make sure you have team-building activities. We did a running training session by the seaside (some of us are still catching our breath) and played board games in the evening. At the beginning of our trip, we present our user manual to get new employees to know others better and understand our working habitats and triggers. We had breakfast and dinner together and sat on the couch with the coffee like it was a Central Perk. Remember the episode when Phoebe sang a song about each of them? Be that girl/guy!
Well, maybe a little less, but still! Hackathons are about coding, sure. But nobody wants to code for 15 hours, even if it is near the sea. Be sure you have a fun factor. Board games are always a good idea. We also wanted to go to the climbing park, but due to the weather, it was closed.
When we couldn't go to the climbing park, we searched for something different. Instead, we treated ourselves to a tasty waffle. Fun fact: Our CEO Chris asked the waitress if it's possible to write Appsvio on the waffle. It was. But the waffle was so over-sweetened that I wasn't able to eat it! Nevertheless, big kudos to our waitress!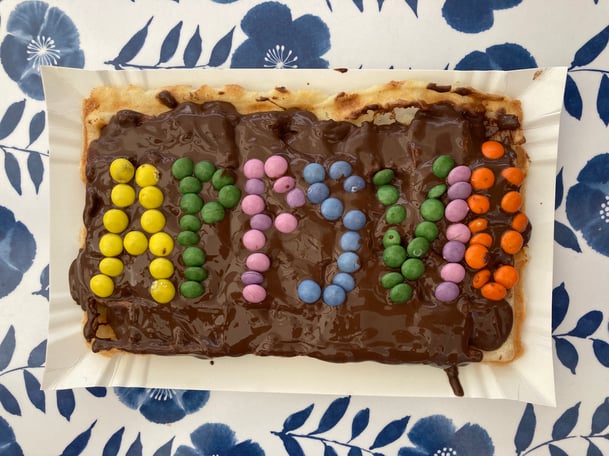 The sweetest waffle ever 🧇
Making the Forge app was a blast! We truly enjoy it. It was something new for us, something that needed to be discovered, and we swear, we loved every minute of it. Prepare something fresh for your Team, be sure it's not a repetitive task that can be tedious. Make work unique, remarkable, and a reason to be proud. Forge is like dinosaurs for us, if you know what we mean :)
Be always fashionable as Rachel
Make yourselves comfy. Tracksuit, warm socks, ponytail – make your Team feel like home. Don't bother fancy clothes; it's all about feeling good. Don't forget to tell people what they should bring: a sports suit, a bathing suit, warm clothes, trekking shoes, etc.
Nothing bonds more than constructive feedback. Make space for discussing pros and cons, good sides, and problems. Hear your Team out and let them speak—even criticism, when in good faith, is an excellent way to improve collaboration.
The truth is your hackathon depends on people the most. Spending time with friends, bonding, creating something together – those moments are magical.✨ Suppose you choose Sea as the destination – good, mountains – good. Just remember to have fun and spend time with the ones you can do great things with. Prepare, make a list, and spend time on planning – your Team is worth it.😊
PS What about a lost bet? 🧐
We bet about how many square meters our cabin has. We even texted the landlord to get specific info, but we needed someone to be right. Celina was the closest to the truth, but the house was even bigger than we thought.