It was a momentous week for everyone engaged in the Atlassian Community. We spent a blasting 4 days in Vegas, connecting with other Vendors, Partners, and leaders in the tech industry, but most of all with old and new friends. Last week was full of discovering new perspectives, trends, and innovations that Atlassian constantly provides us in team collaboration and business management every day since the beginning.
We also did some tourist things, did you? Now we're back home, and it's time to implement things we managed to accomplish here. Let's stop for a minute before we throw ourselves into work and sum up TEAM 23.
TEAM '23 by Atlassian recap
DAY 1 – Partner session info and how to play golf
Monday was a decent warm-up. The partner info session by Seibert Media was covered with spotlights on the ecosystem and solutions and a few vast messages like that Seibert Media announced Mantra launch. Well done, we really enjoyed the event. Everything was buttoned up. We had an opportunity to meet Partners we cooperate with and new faces as well. And we made our Lego Team! High-five for this idea.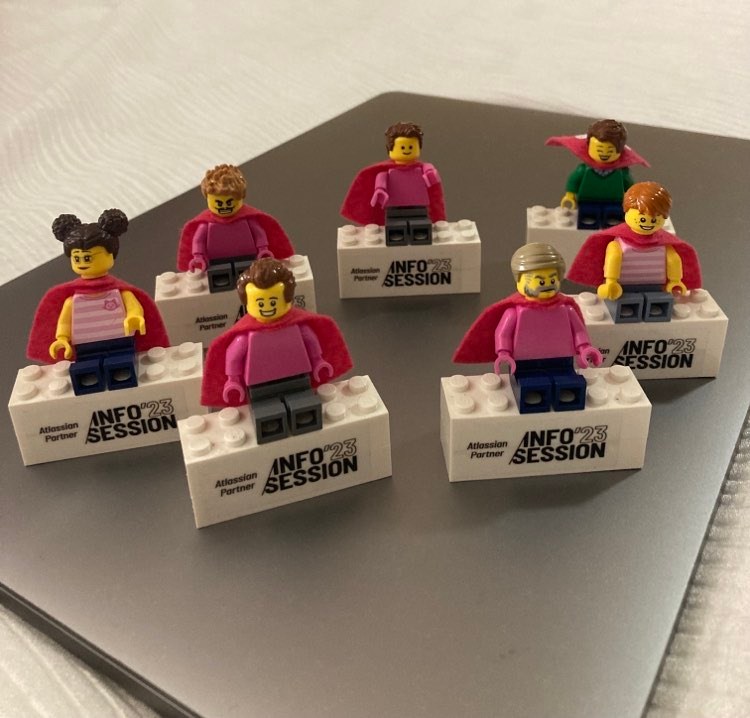 Who is who? 😅
Later it was time to pick up the badges and take a look at our booth. When everything was set up, we moved into Topgolf and tried our best during the Easy Agile event! Kate and Celine tried to play golf for the first time ever, and it could have gone better… or worse. Golf was the perfect ice-breaker, and it was cool to try something new. This one was with verve. Appsvio, Life in Codes, and Easy Agile together
The last stop was at Seibert Media Pre-Party, where we grabbed a beer and even went on a roller coaster. You know how it's said: aim higher!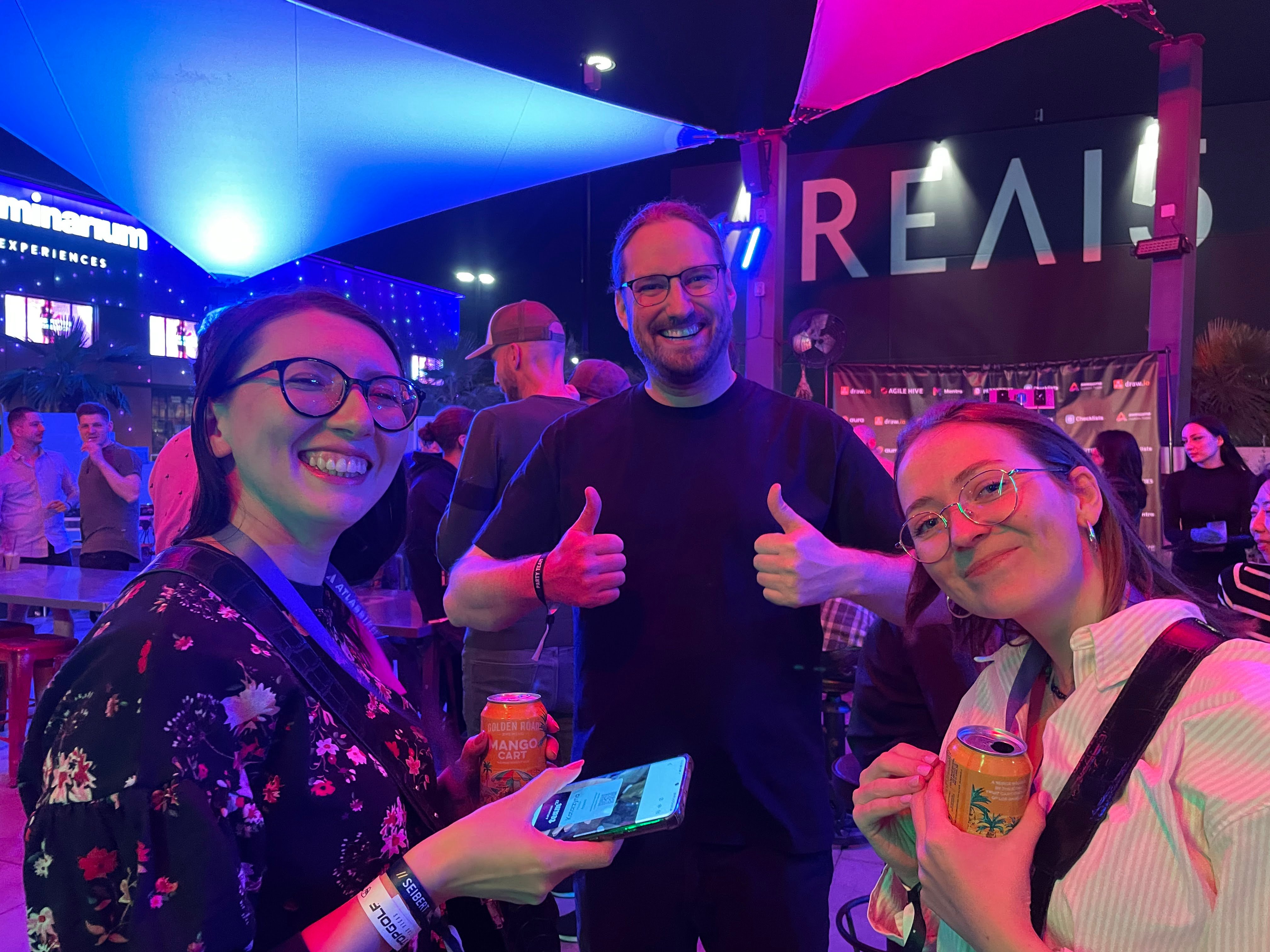 Appsvio x Jodocus
DAY 2 – Partner Day and app stand-up
Partner Day is already in the past, but we loved every single second of it. Opening Keynote with Scott Stratten was full of energy and a perfect start to the day. Scott discussed generation differences and how to cooperate despite them. The next generation is used to things that are disruptive for us, and it can be the main gap, but even though only collaboration and teamwork can take us higher. Every generation has its own worldview. Our community is a combination of experience and young energy, and self-confidence – mix it and see what will happen. And remember! Stop writing Kind Regards in a footer – it's so old-fashioned that it literally means f**k you 😅 Scott was very pictorial. 😊
Later we managed to join a few sessions where there was a huge dose of handy and helpful information for Solution and Marketplace Partners. Once again, congratulations to our friends: revyz and Cross ALM, for winning the Atlassian Partner of the Year 2022 awards! 🥳 We're super happy for you! ⭐️
Kate tried her best to clone herself and attend Community Workshop, a perfect way to connect with, talk in person, and take pictures together. There was a time for statistics, and the number of members is still growing, which is amazing. Community is a very unique part of the Atlassian ecosystem, and we hope it will always grow.
And then the expo started! 💥 We had a really nice visit 👇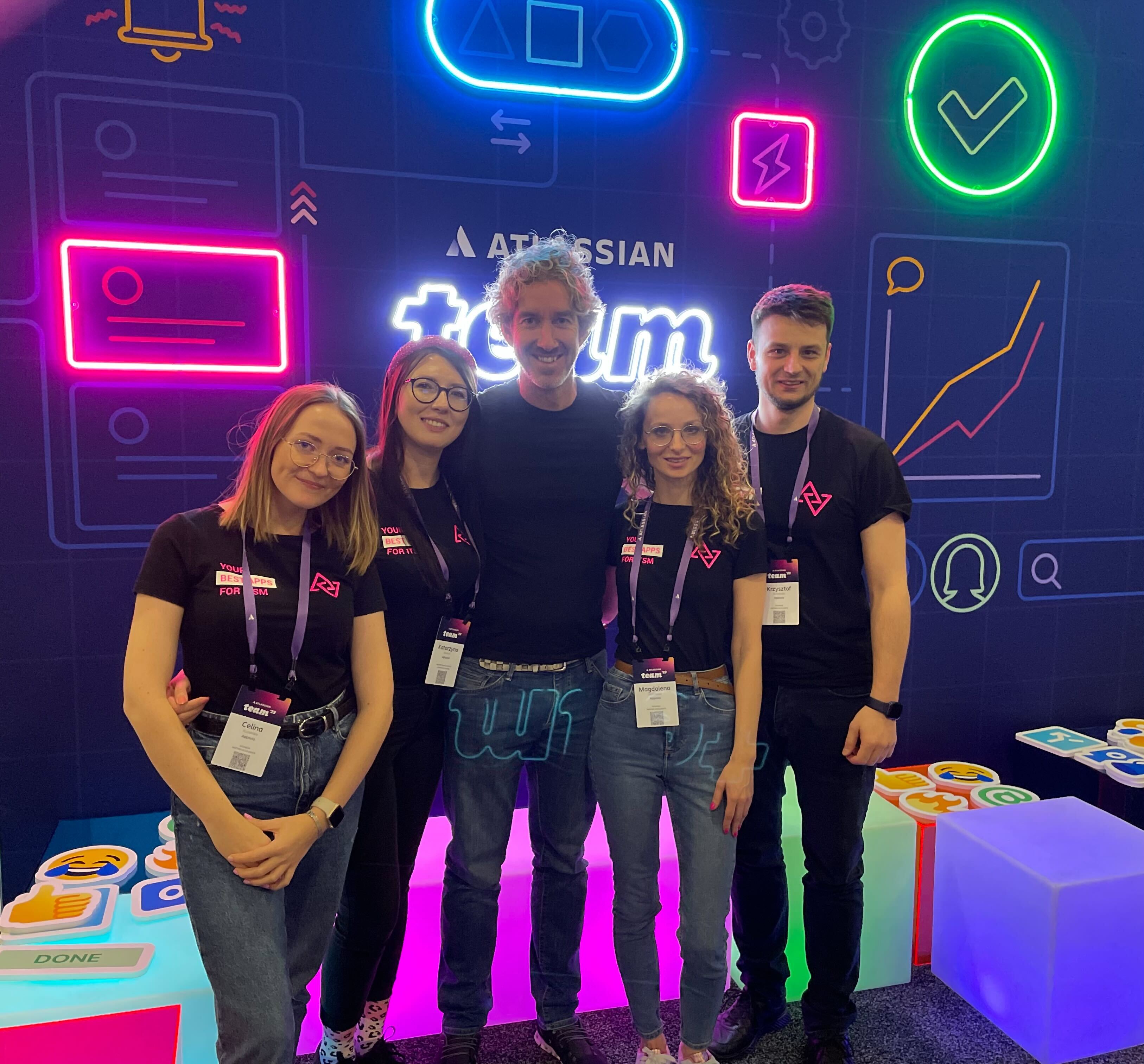 Appsvio Team met Scott Farquhar 🙌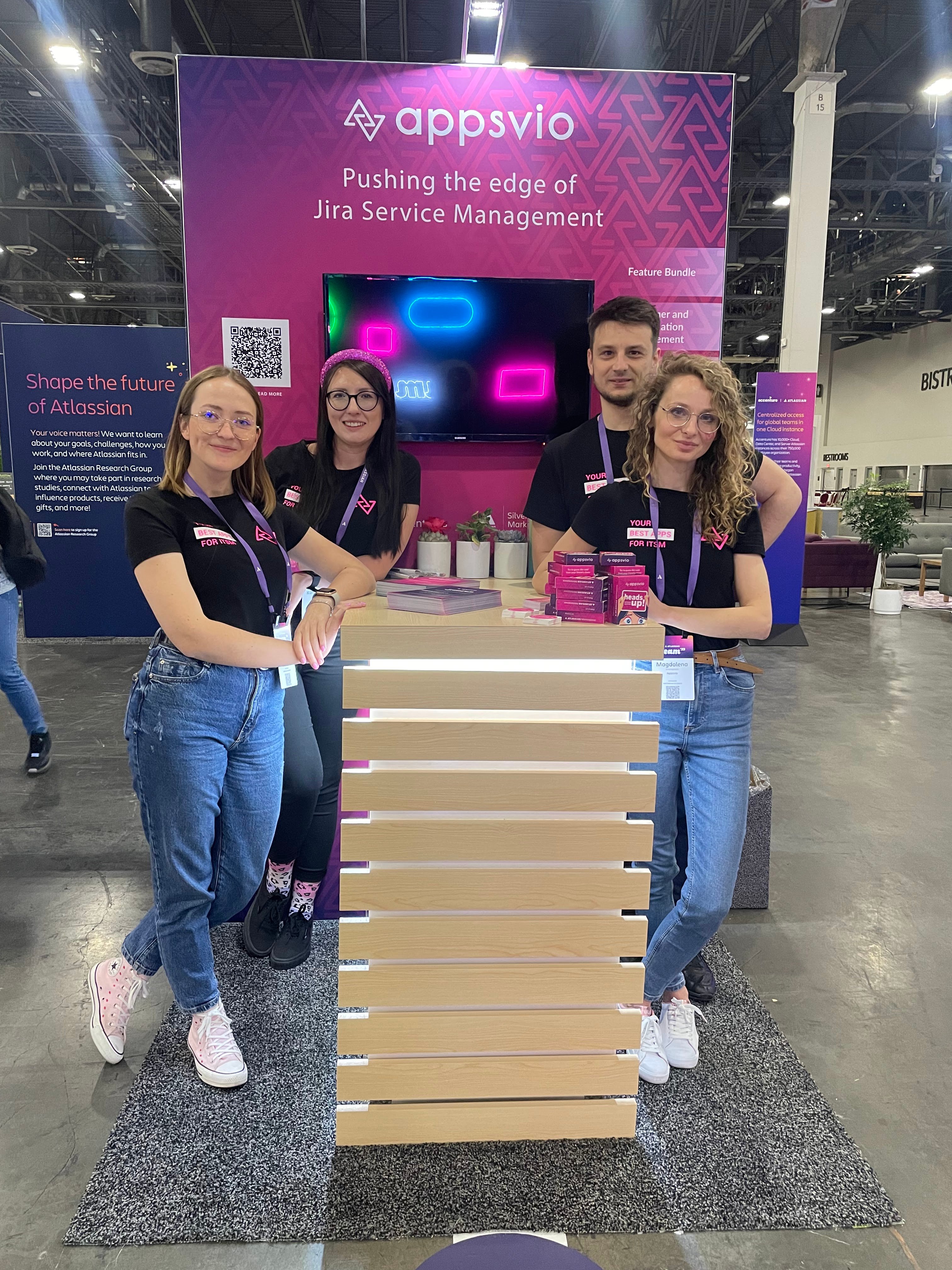 Booth #45
The keynote session with James Cameron was far more than inspiring.
Lesson learned:
Create a team with people who can listen, adapt, and are not afraid of new

The leader has to trust the people

The culture and community around the business should encourage people to speak up

Businesses should have a main goal: to shape the better feature for the next generation
At the end of the day, we attended the Adaptavist party, where some of you had a stand-up moment. We even heard a poem about one of the Marketplace apps. We're still amazed at how creative this community is.
DAY 3 – Expo at its finest
This day was the day we were all waiting for due to Atlassian announcements.
Atlassian Intelligence 🚀
Atlassian keeps up with the times, that's for sure. Say hello to a new virtual teammate.
It has multiple functions:
You can use it as help via Slack and Microsoft Teams. It can answer questions, conduct a conversation and take action. Of course, it's multilanguage.

In Jira Service Management, it can be useful in customer support and ticket service for responding to customers.

Make notes and summary them even faster in Confluence.

JQL support – that one is crucial. Not everybody is dealing ok with JQL when it's for technical teams. Now, with AI, everybody can search with JQL.

AI can assist you in creating tables or fulfilling fields.
You can read more in a detailed post by Andreas Springer from Actonic. Mike Cannon-Brookes presenting Atlassian Intelligence
Safety First
Anu Bharadwaj talked about data security and residency. Atlassian made it to the new regions, and that data residency for Connect is on its way. Something new was also introduced. To keep data and users protected from external threads due to the increased number of cyber attacks, Beacon was invented. It is the newest Atlassian product for threat detection and alerting that secures all products and solutions across Atlassian platform. It automatically searches for malicious and suspicious actions like third-party app installations or authorizations. When it happens, you receive a special notification and then investigate who, when, and why conducted this action.
Confluence Whiteboards are coming
This is going to be another dimension of team collaboration. It will be a perfect tool for brainstorming, mind maps, product maps – full of visualizations, notes, and even imported and linked Jira issues. It's going to be free for all users. You can sign up for a waiting list here. Confluence booth was well prepared for promotion because you could get little whiteboards there.
After the Keynotes, we were back at our booth 45 and to our customers. We played the Heads up! game with you, and it turned out to be difficult sometimes, so we're glad that it also has an educational value.
Most frequently asked questions and customers' needs
💡Customers asked how to boost Jira Service Management ticket service, and we were all set to answer. Most of our visitors already used Jira Service Management (mostly cloud version, but data server was a common case, too). They needed extensions to create a comprehensive tool for managing customer data, collecting additional attributes, and storing it in Jira. They asked if they could get and store a phone number somehow or the location of the organization. Our Customer and Organization Management app was the correct answer, and we were proud that it fits customer needs so properly.
Duplicate issues were also common cases. What to do when in your queue are many issues about the same bug and how to keep your board in order. We showed visitors Issue Merger PRO demo and how to deal with duplicate issues.
We think that the most catchy feature you were interested in was the edit request from Feature Bundle for Jira Service Management. We saw the sparkle in your eyes everytime we introduced this one.
Integrations are very attractive for Jira users. For now, we have one integration with HubSpot CRM, and for you who use this system in your Teams, it is a powerful add-on to eliminate the silos between sales and technical teams. Displaying HubSpot properties on the issue view was among the most often demos.
Thank you all for all the questions and ideas. We always say customers' feedback is our ultimate inspiration, and you didn't prove us wrong. Thanks to you and our discussions, we have new ideas about features and solutions, so as soon as we get rid of jet lag, we will be back on track. 🙌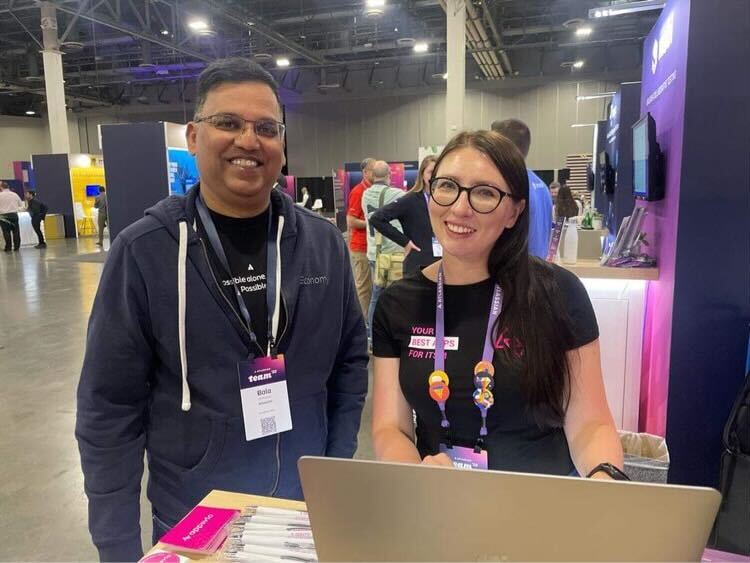 ITSM talk
Day 3 ended with a bang. When the evening came, we headed to the pool party by Adaptavist. Some of you even swam! At the same time, Kate was at a Community Leaders' dinner with very special guests. Even Mike Cannon-Brookes, Anu Bharadwaj, and Cameron Deatsch showed up among the Atlassian Community crew, and they were there to talk with leaders about the ecosystem and award the most engagement ones.
DAY 4 – Bash day
Day 4 was pretty busy for us. We had a lot of visitors at our booth, and we even ran out of Heads up! game. We're full of excitement about you coming to us with so many questions, ideas and so eager to discuss.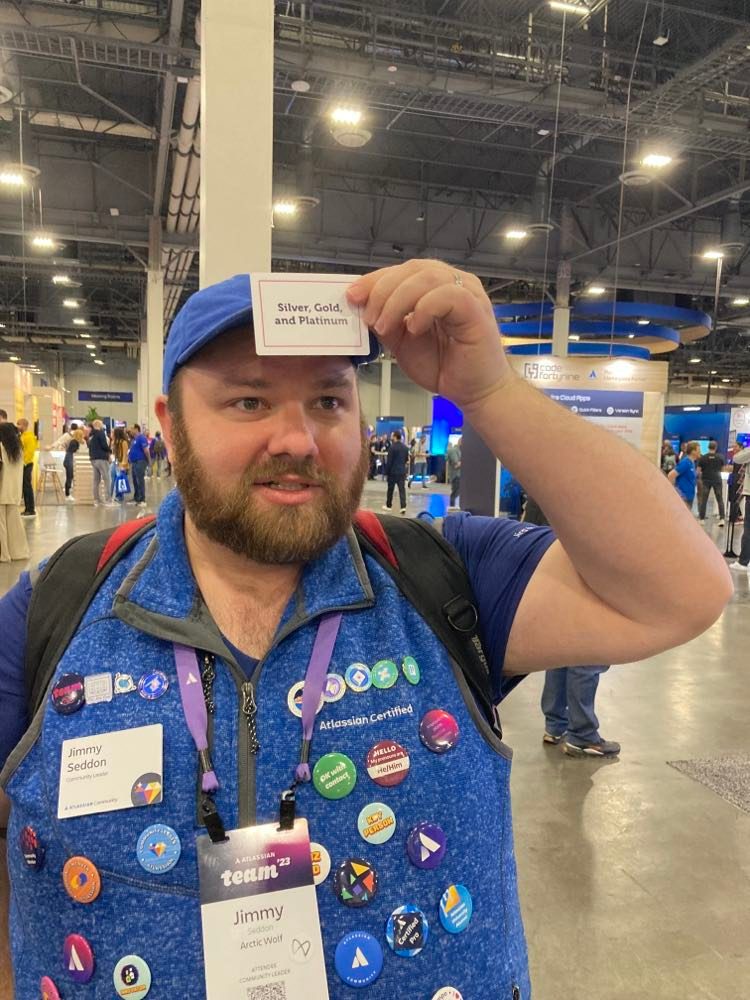 Jimmy playing Heads! up game
That day Kate had her presentation about how to create an outstanding customer experience with Jira Service Management. Kate shared our approach and know-how about this area. After that, we had our little celebration with the team and Italian food.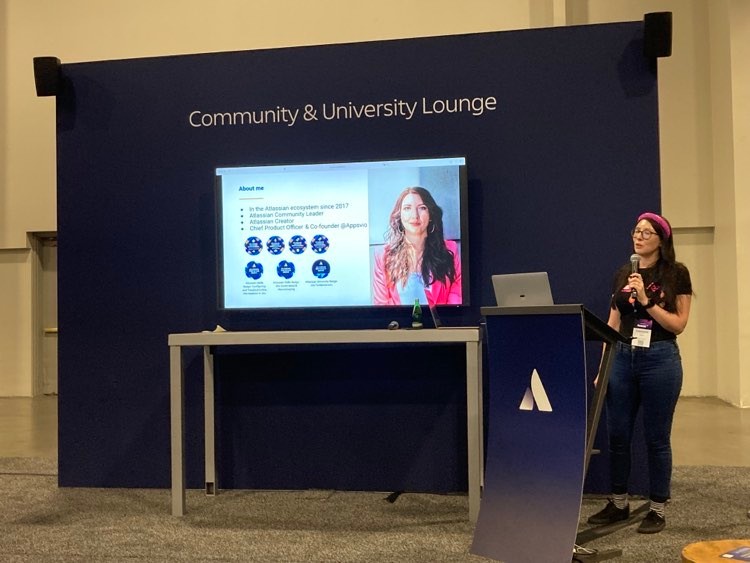 Kate during her presentation
On the last day, we organized a raffle. 🎉 Stephen was the lucky Guy, and we hope the Polaroid he won will be handy during his trip from LA to San Francisco, stopping off at national parks along the way. We're waiting for photos of photos! 📸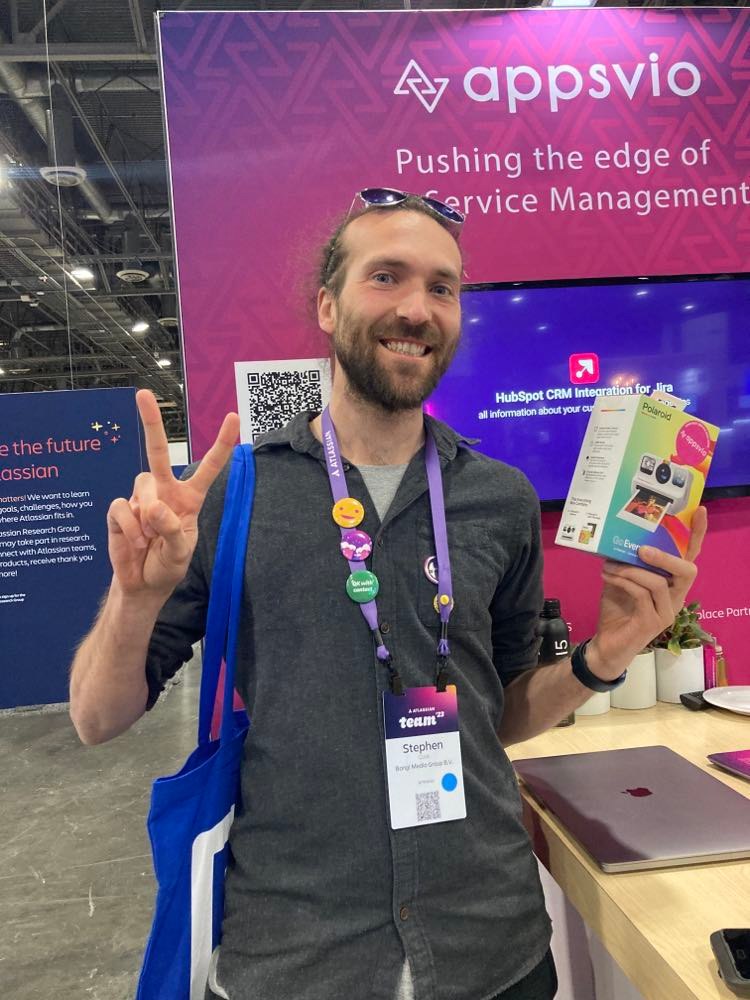 Congratulations Stephen!
🕺🏻💃 And then Bash came. 00's theme got us at the very beginning! We're still singing Britney in our heads. Atlassian knows how to throw a party. We loved your costumes, glitter, punk styles, and the band. It was a perfect, rocking ending to the event.
It is said that what stays in Vegas, stays in Vegas – we disagree this time :D We hope that memories and connection will last and all of you who planned to create something with us will do so.
TEAM 23 was, as always, a massive dose of inspiration and motivation, but this one was special for us when we were there for the first time as Appsvio. 💖
Booth 45 says thank you, Atlassian people. Saying it was a pleasure is not enough – it was a blast. ✨
Write to us on Linkedin, catch up via Calendly – let's turn a talk into action now!