Time tracking at Confluence: Why and on what cases it could be useful
5 min read
Aug 13, 2020 10:41:04 PM
Confluence is Atlassian's digital collaboration space. It is a place where teams of all sizes and nature can effectively share knowledge and information about a particular project. Project managers also get a chance to monitor what is going on with team members. In most cases, some teams work on a timed billing system. As a result, each team member is paid for the time they were actively working on the project. While Confluence integrates efficiently with other Atlassian products, a time tracking is perhaps the most crucial integration each team should have. Fortunately, at Appsvio we created plugin Time Tracking for Confluence which introduces a completely new approach to this topic.
Why time tracking is important for Confluence
While you can track time on the Jira platform, some team members may not need to keep switching context. For instance, an editorial team comprising of business analysts and copywriters may not need to use Jira as their work can solely be completed in Confluence. In such a case, it would be inefficient to force the team members to have to switch context every time. Confluence time tracking makes it easier to log the working time without having to navigate to Jira.
Confluence time tracking improves the manager's oversight on the team members since one can see what each person contributed to a particular page. In turn, this information can be used to make useful decisions that can improve the quality of work. Time tracking also helps members assess their efforts to the common goal of the group. Since everyone can see the contribution of members of the same team, time tracking can motivate members to look upon each other and what they are doing.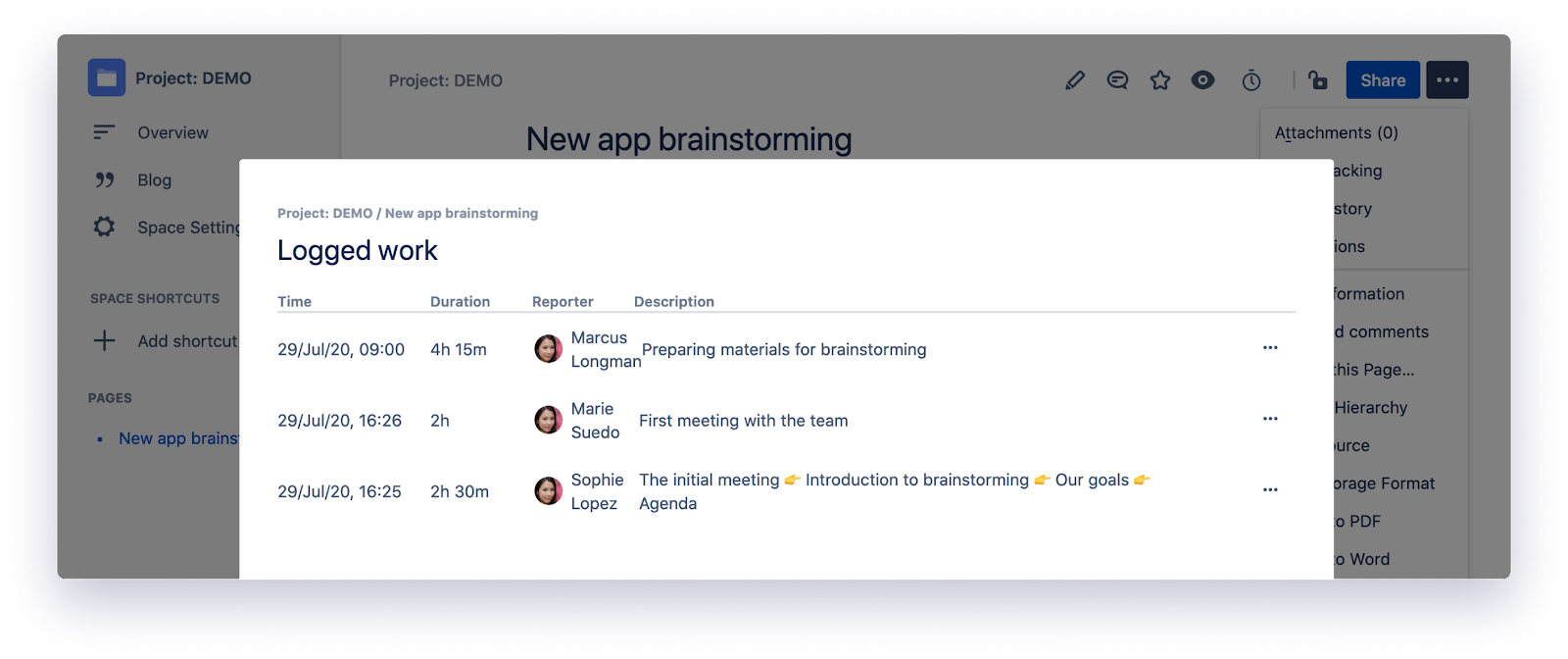 Check who else is involved in creating the content of the current page
Time tracking systems usually come with reporting capabilities, and this is an added advantage to the manager. With time reporting, you can see where most of the time is spent. Again, you can see who takes the highest amount of time to get a particular task done. This is useful for a team working on similar tasks and can help you reorganize the team for maximum efficiency. Besides, you can export the reports generated to spreadsheet files, perhaps for further analysis, among other uses.
While you may be operating spaces and pages in Jira, there are notifications/information you may need to pass to the group using Confluence alone. While these will be created in Confluence, it remains important to track each project's workspaces and pages. After all, you will pay for what happens in the pages and spaces.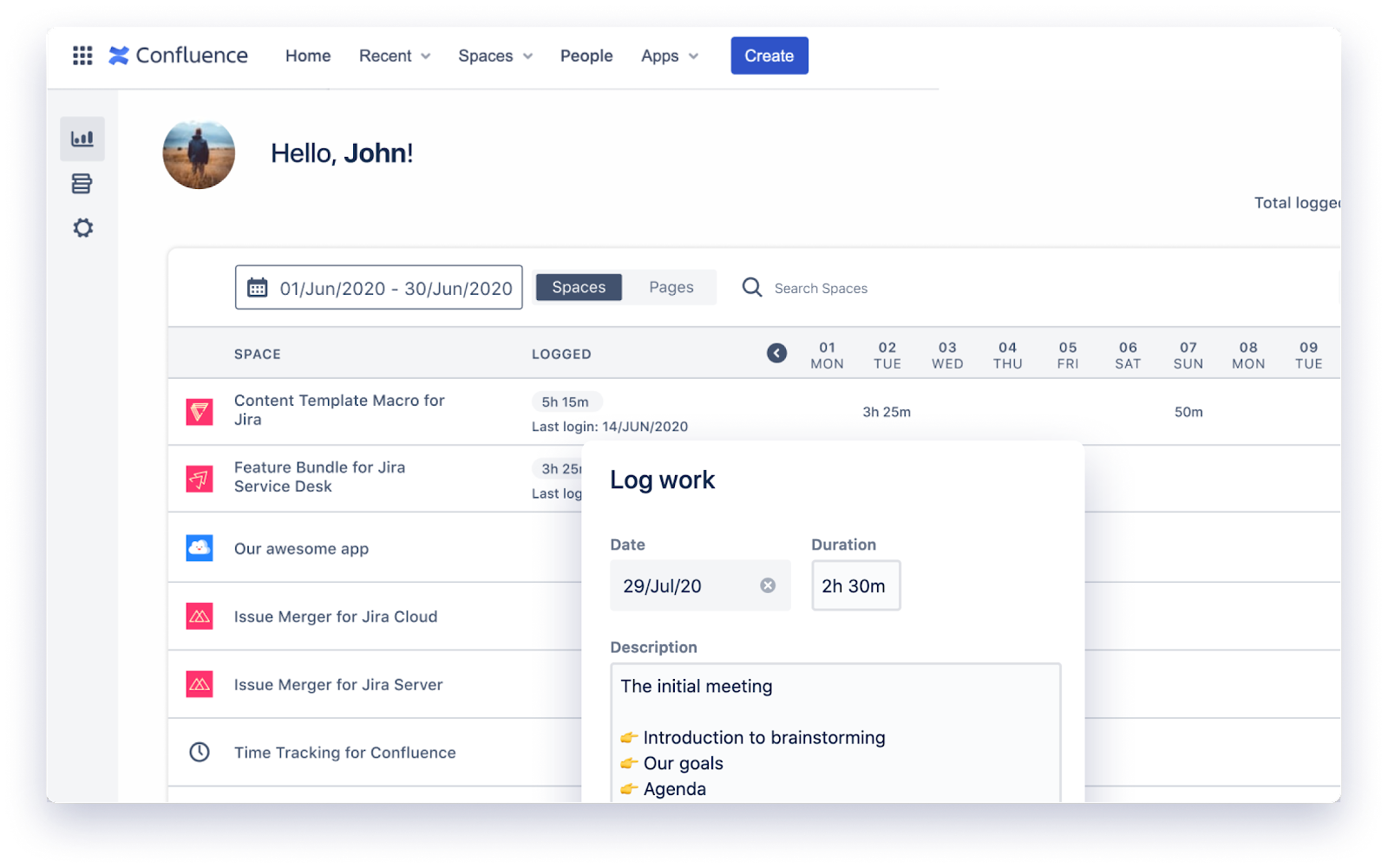 Check logins on individual spaces and pages without having to visit each of them separately
Cases when time tracking for Confluence may be useful
Timed billing is not a new concept in the various consultancy fields. Many people involved in the provision of digital services prefer a timed billing system, and including a time tracking add-on in your confluence application gives team players more flexibility. This may, in turn, motivate team players and improve the quality of work done. Copywriters, computer programmers, and analysts are some of the people who may be interested in time-based billing.
Time tracking on Confluence makes it easier for these workers and you to know exactly how much time they worked on the project and minimize the chances of a conflict.
For team performance monitoring
With performance monitoring, you may start with a larger group of people and assign them tasks using Confluence. If you are interested in the quantity of work overtime, then you must install a time tracker add on. This especially applies to full-time workers and is useful in gauging the returns on investment. Time tracking helps you identify what each worker is bringing to the table and what they take in return. Using time tracking for confluence cloud allows you to understand your workers, and you may, in turn, reorganize or plan a new task assignment policy.
In the modern world, you may not achieve your goals with in-house talent. Sometimes you may need to hire people outside your company to deliver certain items of work. With this kind of arrangement, the workers may not need access to the whole Jira platform, and as such, time tracking may be limited. Therefore, it is advisable to have a time tracker on your Confluence account, which will enable external employees to work effectively while logging their active time.
While you may track time by raising an issue on the Jira platform, it requires you to switch context from Confluence and perhaps conduct a search. This process does not always go well with some users, and a time tracker add-on on Confluence is highly welcome. Furthermore, this increases the user's concentration on the task and may, therefore, act as a morale booster. The bottom of it all is that your workers will perhaps be more efficient and deliver superior quality work.
For confluence-only tasks
Jira is a business-wide platform, while Confluence is the meeting room for project teams. It is the place where ideas are developed, and tasks shared among team members. While Confluence remains part of the wider Jira family, some teams may not need the functionalities offered by some other parts of the system. This means that such teams may have difficulties in tracking what each member contributes to the project. However, the situation may be reverted by using a time tracker and report generator that works in the confluence environment. In turn, confluence-only tasks can be tracked effectively, and the working time and contribution of each team player recorded.
Logging time with Time Tracking for Confluence
Using our application is a child's play. The strong point of this product is the lack of configuration. As a Jira administrator, all you need to do is install the application. Go to Manage apps, find Time Tracking for Confluence in the search engine, and click Free trial. The application will be installed on your Confluence instance in a few seconds.
Installing the app causes a new item to appear in the top navigation bar in the Apps dropdown: Time Tracking. It is the command center of our application. There you will find a table with a summary of your logins on various spaces and pages. You can narrow your search results to specific date ranges. Moreover, all information can be easily exported to a .csv file for further processing. Installing the app also causes the watch icon (Log work) to appear next to the pencil icon (Edit page) on the Confluence pages. After clicking on it, you can enter how much time you have been working on a given page and briefly describe what changes have been made. All logins (not only the current user but each page contributor) are available in the dropdown after clicking More (three dots) and selecting Time tracking.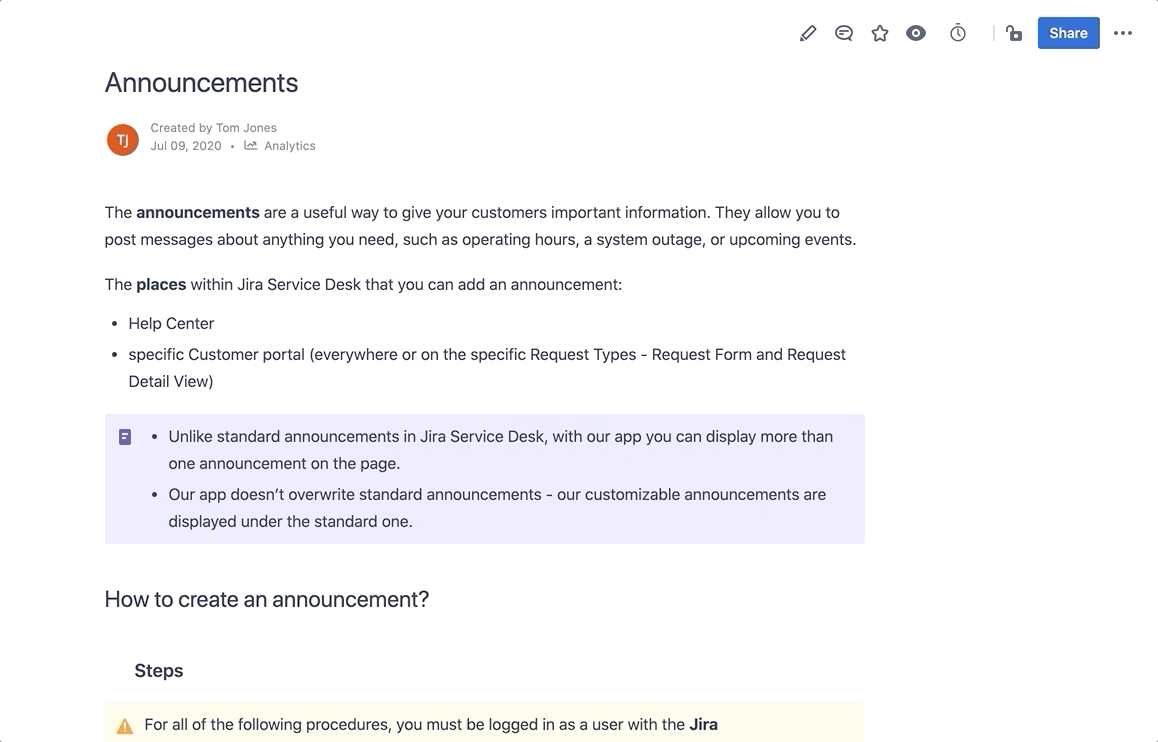 Conclusion
Time tracking is an important aspect of remote team management. It organizes our work like never before and ensures its transparency. The absence of a time tracker on your platform may hinder the effective monitoring of work and reduce team members' productivity. While we have tried to identify the most generic cases that may require you to install the time tracking for confluence cloud add-on, we are aware that there exist hundreds of other cases (We'd love to hear your use cases!). The best part about the tracker is that it also gives reports on each team member's contribution. Besides, the report can be exported to a .csv file, which can then be analyzed for deeper insights.
More info about the product's features you can find on the Atlassian Marketplace. We'll be happy to organize a demo session for you! You can book it via Calendly.